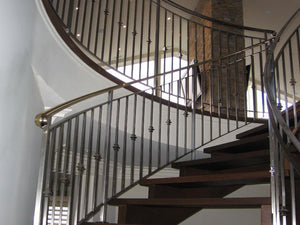 How to measure handrail?
Handrails are designed to provide stability & support while also acting as a guard to prevent fall or injury. Not only are Handrails useful safety requirements but they are a wonderful decorative design feature of a home, business, or building. 
Handrails can be mounted to a wall or fixed to ground or to the staircase structure.  Every installation is unique and customers are encouraged to review their local building codes for additional information.
How to measure handrail?
Measurements needed for Handrail:
Here are the Measurements you will need to quote your staircase.  Always submit a photo of the existing staircase so that your contractor has a basis from which  to understand your measurements.
Count the Number of Steps

        Count the number of steps in your staircase

Nose to Nose Length

       Measure the nosing distance from the top step to the bottom, as shown above

Angle

       With an angle finder determine the angle from which the staircase and ground meet. Most common angle is about 37 degrees

Rise

       Rise" refers to the vertical distance from the top of one tread to the top of the next tread

Run

       The horizontal or flat part of the stair is called the run
 Click here to download the PDF for sending the measurements. Email us the pdf info@gallerymetalworks.com  
Metal Finish Powder Coated & Plating Options:
Gallery Metalworks offers a variety of substrate materials and finishes.  Examples include, Stainless Steel, Brass, Bronze, Powder Coated Finishes as well as Plating Finishes. Click here for some examples
Handrail Styles
The style of handrail is another important consideration. Examples include Round Tube, Square Tube, Flat Bar, Rectangular Tube, Decorate Rails, etc. . 
End Caps:  You will also need to know how your handrail will terminate.  For Example, handrails terminate, to the wall, with a decorate flat or domed end or other, or they can also bend and terminate at the ground. 
Brackets: There are a variety of handrail brackets you can choose from.  These include off the shelf brackets or custom welded brackets.
Are you Ready to Quote
Questions
Did you take a photo of the existing staircase and or opening area
Do you have drawings you can send your contractor
Have you determined the style of handrail, bracket, end cap and Finish
Have you provided all the necessary measurements (see above)
If you have answered yes to the above questions than you are ready to submit a quote request with your contractor.  Your contractor will have questions but rest assure you have provided a strong base for which your contract can begin estimating the cost of your handrail. 
 Gallery Metalworks offers a variety of handrails and guardrails.  Please keep us in mind for your next project.
---