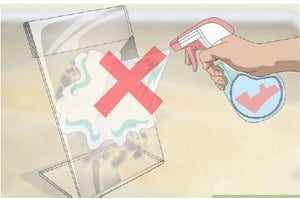 Cleaning Instructions for Acrylic
Cleaning Acrylic
Do Not Windex or Alcohol or Ammonia.
Windex will Cloud the Clarity of the Acrylic.
Use Only Soap & Water to Clean
Use Microfibre Cloth
Dry with Microfibre or Premium Paper Towel
You can also use a squeegee to clean the acrylic
Note: Inexpensive paper towel such as craft towel will not dry the glass. Your operator may apply too much pressure when trying to reduce streaking. This applied pressure may potentially scratch the surface.
Do Not use Products with Alcohol , Ammonia or Aromatics
Products like windex which contain alcohol will significantly damage plexiglass, acrylic, lexan, etc. Also avoid solvents such as acetone, dry cleaning fluid or any gritty cleanser or polish as they will damage the surface of the acrylic.
Although it is best to use soap and water mixture there are some products you can buy that are meant specifically for Acrylic, like Brillianize or Novus.
Our Recommendation
Use only Dish Soap such as Sunlight & Water. Use Microfibre cloths only & do not
use any abrasive material that will scratch surfaces, such as abrasive cleaning
sponges or inexpensive paper towel. You can use a Squeegee to remove the soap water mixture. Please ensure you remove any surface dirt ie sand that may cause scratching.
We are not responsible for improper handling / cleaning of your acrylic panel. Please ensure that you follow our recommendation
---